Marriage in Australia
Couples must submit to the Celebrant a Notice of Intended Marriage (NOIM) at least 1 month before the date of the proposed wedding date
(ie., if your marriage is the 15th June, the latest date for Lodgement would be the 15th May). The sooner the better that this NOIM is lodged, so that if there are any discrepancies, there is plenty of time to address them.
LINK FOR DOWNLOADING THE NOIM : NOTICE OF INTENDED MARRIAGE
AFTER YOUR WEDDING HAS BEEN CONFIRMED WITH ME, THIS IS THE PROCEDURE
Couples need to DOWNLOAD from the weblink above, the Notice of Intended Marriage (NOIM), complete the NOIM, have it SIGNED by at least one of you, (one signature is sufficient for the NOIM to be officially lodged) in the presence of any of those authorized WITNESSES mentioned at (a) on Page 4 of the NOIM.
(Can only be these designated witnesses).
TRANSLATIONS
Any documents NOT in English need to be translated and originals of both to be brought with you for Celebrant to SIGHT before a Ceremony can be officiated.
IF YOU ARE A LOCAL COUPLE – We would meet up for the above procedure.
IF YOU ARE FROM OUTSIDE OF CAIRNS – All can be done by email and computer scanned documents. (A scanned, signed and witnessed NOIM sent to the Celebrant is sufficient for the NOIM to be "officially lodged").
Along with the SCANNED NOIM, you also need to SCAN to me COPIES of relevant supporting ID documents listed below - if possible, along with the NOIM. BEFORE A MARRIAGE CAN TAKE PLACE, Celebrant needs to sight the original
IF YOU ARE A RESIDENT OF AUSTRALIA
you will need:
Birth Certificates if possible (See **)
Official Court Divorce Papers,
Death Certificate if widowed
Certificate of Name Change, if name has been changed other than by previous marriage.
Photo ID (Passport or Driver's Licence)
**If you are absolutely unable to produce a Birth Certificate, but have an Australian Passport, this alone will do, BUT not having the Birth Certificate, can mean that the information on the Official Marriage Certificate may be in error. To correct it later will require a Birth Certificate anyway, so best to have it at the start.
IF YOU ARE COMING FROM OVERSEAS FOR YOUR MARRIAGE
you will need:
A current Overseas Passport
Official Court Divorce Papers
Death Certificate if widowed
Certificate of Name Change, if name has been changed other than by previous marriage

You MUST have your Notice of Intended Marriage (NOIM) Form witnessed by ONLY: An Australian Embassy/Consular Authorized Staff member or a Notary Public of your country.

(See a Law Firm in your home town for lists of these.)
OBTAINING YOUR OFFICIAL REGISTERED CERTIFICATE OF MARRIAGE AFTER THE WEDDING:
(On the day of your wedding, I will give you a PRESENTATION CERTIFICATE, but these days all couples, MUST apply, AFTER the wedding, for their Official Registered Certificate of Marriage from the Births, Deaths and Marriages Dept., (BDM) in Brisbane, Queensland.
As I am registered to do ONLINE REGISTRATION of all my marriages, I am able to activate an ONLINE REQUEST for your official Certificate of Marriage. The turnaround for this, is days usually, and not weeks, if your celebrant is not registered to do ONLINE REGISTRATIONS.
Within days of the Marriage being registered by me at the Qld BDM, you will be emailed a Payment Link by BDM. The Fee for this document is between you and the Dept., and for the 2019-2020 period, the fee is $49.50, but there is always a small Fee rise each July.
Upon receipt of the payment, BDM will then post the Official Certificate of Marriage to the Postal address you have nominated.
FEES (Current) for BDM certificates. Here is the link: BDM Fees
WHY YOU NEED TO APPLY FOR YOUR OFFICIAL CERTIFICATE:
There are many reasons including showing the Certificate as EVIDENCE of either - your Marriage / your Conjugal Status / changes to your Surname / Re-registering your marriage in your country of origin (only if that country requires.)
These changes can relate to you both. For example - Superannuation, Wills, Life Insurance, Taxation, Centrelink, as well as Name change evidence for such documents as Passports and Driver Licences.
REMEMBER TO BRING the Originals of all documents with you to be sighted by me, if I haven't already seen them, and ensure you have given me your ORIGINAL NOIM. These are necessities BEFORE a marriage can take place.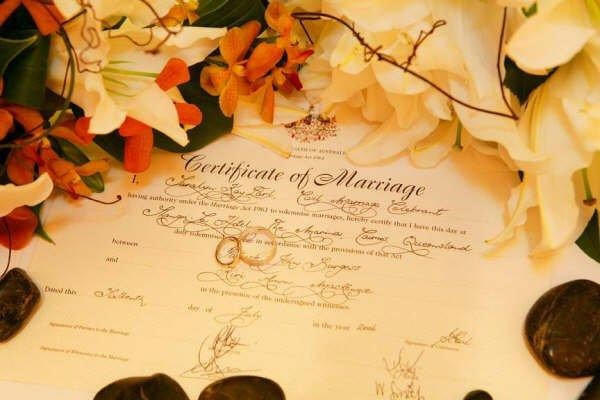 Saralyn Kay EARL – CAIRNS WEDDINGS – Celebrant apt. 1995 : Justice of the Peace (Qual)