"We were recently married in a Palm Cove 'destination wedding' from the US. Kay was amazing to work with. She shepherded us through the myriad details necessary for a foreign wedding, and even met us at the airport upon arrival to go over last minute details. Weather forced our 'outdoor beachfront' wedding indoors but Kay was nonplussed by the change and performed flawlessly. Her handling of all the details and nuances of foreign wedding planning were second to none, and she even brought her husband along to serve as our witness. She was very ably prepared, had us well-prepped, and even recommended a superb photog for our special day. Kay made a challenging day and event go smoothly and seamlessly with as little stress as one could possibly imagine. The best thing about our wedding day was Kay Earl!"
Randy and Susan, USA. Jan 2020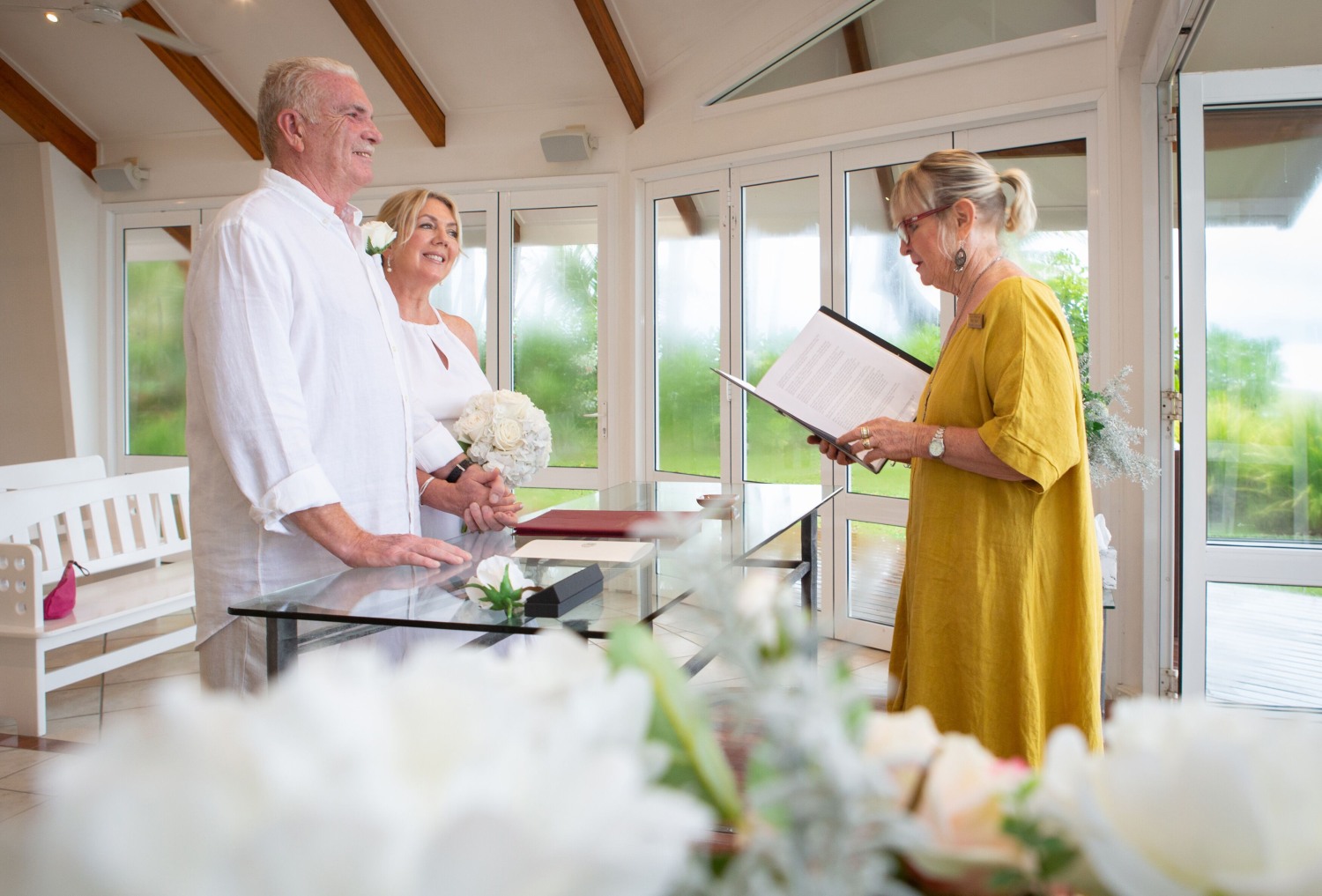 "My husband and I are both in our 70's and decided to elope.   We both lost our spouses due to Cancer some time ago.  We did not tell family or friends and decided to "GO FOR IT".
I found Kay on her website and thought - how lucky am I.   Kay not only sorted out the paperwork (we live in NSW and were married by Kay in Qld) but gave us so much help over our numerous emails and phone calls. Kay even organized her wonderful husband Warren, to be a witness along with Colyn our photographer. Kay could not have suggested a better person to take our memorable photos. We gave Kay the background on our lives and how we met and Kay wove the most wonderful story into our vows.  We had the most fantastic OLDER wedding which will stay with us forever." 
Rusty and Jan, Albury Vic…. July 2019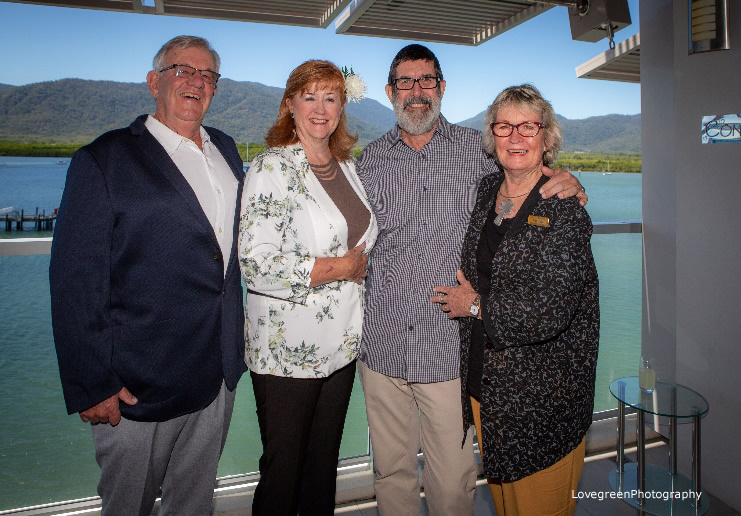 ---
Thanks Kay for travelling so far out to Zig Zag Station to be our celebrant earlier this year. Saying our Vows on top of the hill with 360degree view at Sunset was just magical.
Brad and Rosie… Jan 2019
---
"Thank you so much for everything. Your words on the day were beautiful and the ceremony was everything we had dreamed of and more. It really was the best day of our lives and we thank you so much for that. The flowers we sent were just a small token of our thanks to you. You really made our day so special, and everyone commented on how wonderful you were. We cannot thank you enough.
Natasha and Bruce (St. Mary's Chapel Port Douglas)
---
Just wanted to say a huge thankyou for all of your efforts on our wedding day. We both had such an amazing day and we thank you for being such a big part of that. We are so happy that you were recommended to us and we would be delighted to recommend you to others.
From the moment we were introduced you were professional, friendly and supportive. In the lead up to the wedding you were extremely organised and talked us through everything step by step, which really helped to calm our nerves. It was lovely getting to know you a little better before the big day as we grew confident that we were in good hands.
On the day of the wedding you calmly organised all of our guests, bridal party and ourselves with grace and finesse. There were a lot of comments on how beautiful the ceremony was, as you made it very meaningful and personal to our family and most importantly, to us. You made our special day more amazing than we could have ever imagined and we cant thankyou enough for that. Kay, you did a brilliant job for us and have created everlasting memories for both Jason and I. Thankyou very much for doing such a fantastic job!
Sam & Jason Shackleton
---
I am sitting at the airport in Germany and both of us would like to thank you once more for the beautiful ceremony you held for us. You made the whole occasion very very special for us. We really liked your caring attitude and the way you conducted the wedding ceremony. We will always remember this special day and the part you contributed." Ingo and Shamim
"Kay is a very professional celebrant who was very efficient prior to our weding day. Kay was flexible and gave us everything we asked for and nothing was ever a problem through our preparation. On our wedding day the ceremony was amazing, and Kay delivered the service ina a way that kept our guests entertained. Kay has a wonderful, bubbly personality that made us feel very comfortable throughout our whole wedding experience.
Max and Michelle Bernstone – at Yungaburra, June 2019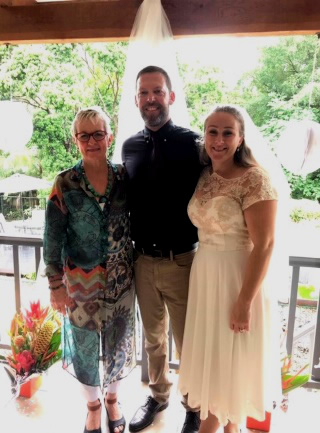 ---
From the very first contact with Kay over the phone (and I'd spoken to a few celebrants to find "the one" we'd like to conduct our ceremony) I knew that Kay was a perfect fit. We met up with Kay a couple of times before our ceremony and she was very informative and reassuring from start to finish. Nothing felt rushed from the moment we met Kay. Extremely professional, with a personal touch.
We were blown away by Kay's memory and detail throughout our ceremony. Our wedding was quite small, but Kay kept all our guests informed throughout the process and made sure everyone felt involved. Kay is very kind, warm and compassionate and everything felt so personal, lovely and flowed so well from start to finish.
We are very grateful for the beautiful day you gave us, thank you Kay.
Mr and Mrs de Groot xx – January 2019
---
I would have to say the nicest wedding ceremony we have ever attended, would have to be our own. We have you Kay, to thank for that. Thank you so much from the bottom of our hearts. From our first telephone contact, I just knew we had chosen a very special person to marry us. Everything was perfect, the meetings at our home, the attention to detail, and your sincerity and kindness. We are the happiest couple in the world.
Jeff and Helen
---
How could you make my dogs wait so long for the walk I promised them! I got so involved in the beautiful words of the Ceremony Selections you had sent us, that nearly 1 hour later, the dogs were walking around with leads trailing behind them. Tears fell as I read the fabulous words…… you will make us complete when you marry us. How lucky we are to have found you - someone who looks at their professions as a labour of love."
Elizabeth and Brian
---
We just wanted to thanks you for all your help with our gorgeous wedding ceremony. I loved the fact that we got to see our guests' faces with huge smiles across them. You did such an amazing job especially with the threatening weather, my father said that you paced it really well. So a huge thank you!!! We won, I won't forget how amazing it was."
Tom and Yvette
---
Thank you so much for everything that you did for us to make our wedding day in Port Douglas such a treasured event. The ceremony was so beautiful and we loved your words and the wonderful way that you included Joshua, Isabelle and all our family and friends. It was a very special thing to make a commitment to each other in front of all the people who mean so much to us and you played such an important role, which was truly appreciated. The whole event was just what we had hoped for - no stress, lots o happiness and laugher. We had a wonderful time."
Sue and Will.
---
We just wanted to thank you for what turned out to be a truly amazing wedding ceremony that exceeded all expectations. I think we had pretty much every female in the audience crying with happiness at one point. Anna and I both had a marvellous time and the evening carried on with the same spirit right through to the after-party.
Charlie and Anna, New York.
---
We are back and settled in at our Vancouver residence. We can't thank you enough for making our wedding a complete and memorable success. You have a way of spinning a certain charm and maintaining a captive audience and it was very focused. You have a way with words, and purveyed a sense of laughter and love, that most embraced. Michelle, Liam and I felt a sense of ease with you presiding over the ceremony, truly and event I will remember fondly forever. Thank you for making what could have been a chaotic event, into a thoughtful, positive and emotional experience.."
Mark, Michelle and Liam T…
---
Thank you for making our wedding ceremony and Cooper's Naming Ceremony so special. The personal touch that you added, made our special day one to remember and a day thoroughly enjoyed by our guests. You were our first choice of celebrant, and we will definitely be recommending you to friends in the future"
Adrian, Heidi and Cooper, Cairns.